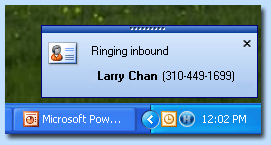 Desktop Alerts
When your extension rings, an optional desktop alert displays, informing you of the call and Caller ID. Desktop alerts show the names of people calling your extension for Caller IDs stored in your Outlook contact database. You can also display this alert when making outbound calls.
Outlook Integration
Right-click on a contact or email message to call. Your phone rings and you're connected!
Drag-and-drop Calling
Instantly place a call by selecting a phone number in any file or application and dragging it into HUD.
Easy Dialer
Place a call directly from HUD by typing in the desired phone number and clicking "Call". HUD will call your extension first, then connect you to your outbound call.
Call Transfer to Voicemail (self)
Transfer an incoming call directly to your own voicemail when you are busy with another call.
Call Transfer to Hold
Place calls on hold by transferring them to your on-hold area when you need to take another call.
Color-coded Call Status
HUD color-codes all calls:
Green

- Inbound/outbound call

Orange

- Queue call

Purple

- Intraoffice call

Gray

- Unregistered
Operator Panel
HUD provides your organization with a full-featured operator panel, including unlimited on-hold and parking areas for every employee and easy tools for managing and transferring calls.
Chat
Employees can send instant messages on your own private chat network. This feature is perfect for:
companies that have turned off external chat as a time-saver
call centers that want to text-whisper to agents while on the phone
Click-to-email
Click the email icon to easily send an email to any employee in your company. The email address will be pulled from your company directory.
Click-to-call Mobile Phone
Click the mobile phone icon to instantly call any other employee on their cellular phone. The phone number to be dialed is pulled from your company directory.
Extension Sorting
Need to quickly know which employee is on the phone? HUD sorts your extensions in "continuous" mode, so you can always have your active callers at the top of the list. Perfect for managers who need visibility into employee activity level.
Drag-and-drop Call Transfer
To transfer calls to any extension, voicemail box, on-hold or parking area, simply click and drag the call status area to the desired location.
Call Parking
HUD provides all employees the ability to view which calls are currently parked, tag parked calles with reminder notes, and drag calls between their extension, their on-hold area, and the parking area.
Extension Groups
Organize your display by departmental groups that mimic the way you operate for maximun efficiency. Simply build a group and start dragging extensions into it.
Queue Status**
Managers can see which agents are logged in and out of their queues.
Agent Login/Logout**
Agents can view their own login/logout status and log themselves in and out of their queues. Managers can also log agents in and out with a click of the mouse.
On-the-fly Recording**
HUD provides your employees the ability to record their own calls with the press of a button. Call recordings capture agent name, agent extension, date, time and file size.
Hud also comes with an extensive permission system - so you decide exactly who can record their own calls and who is allowed to record other's calls. HUD is critical for quality control within your Call Center!
Call Barge/Monitor
HUD provides supervisors with the ability to actively listen or passively monitor any inbound or outbound call. HUD also comes with an extensive permission system, so you can grant a specific group the ability to barge/monitor another specific group.
uncher/CRM Integration
HUD can optionally launch a Web browser to a custom URL when your extension rings. Perfect for looking up inbound callers in your favorite Web-based CRM package or even Googling callers for fun!
** Requires PBXtra Call Center Edition